WHAT MEN WANT AFTER PROSTATE CANCER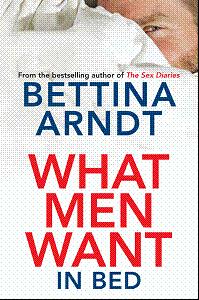 Sex therapist Bettina Arndt's new book, What Men Want - in bed is all about why sex matters so much to men. Over 150 men kept diaries for her, talking about what it is like to live with that constant sparking sexual energy - relentless, uncontrollable, all-consuming.

Their painfully honest, confronting, often hilarious stories explain their quest for sexual adventure, their secret delights, longings, frustrations, their fears and their intense joy in making love.

It was men's bumpy sexual journey following prostate cancer treatments that inspired Bettina to conduct this new research. In her previous study on mismatched desire, she'd been fascinated by how different couples deal with the impact of the cancer treatments on their sex life - some mourning the loss of erections and struggling with the new ED treatments while others giving up, or else moving onto a whole new approach to lovemaking.

So the heart of this new book is about erections - looking at how couples cope when the man's sexual equipment lets him down, particularly after prostate cancer treatments. The diarists write about the wondrous new drugs offering many a second chance. They explain what it is like to pop the little blue pills, or inject their best friend, or cope with a pump-up penis. Extraordinary his-and-hers diaries reveal how partners react to this bumpy journey showing the fallout when a man seeks a new lease of sexual life when his wife just wants him to hang up his spurs.

Men write with extraordinary candour about these deeply personal experiences. They talk about their fear that their nookie days are over:

"This is not living this is just existing."
"I've lost my best friend, even if he was a dickhead."

They share their joys at the miraculous new erection treatments:

"The first time was amazing. It felt like I was 20 again. This is the best thing since sliced bread but much dearer."
"Willy was up, ready to play for 45 minutes - oh what a feeling Toyota!"

We hear from women who are keen to see their men put out to pasture:

"I love my husband but I believe I have earned a rest."
"A chemically induced penis is not my idea of pleasure. It makes me feel used."

But also women who are devastated when their men withdraw from sexual contact:

"I felt rejected, undesirable and unfeminine. I was a weeping mess most days."

It isn't easy coaxing a reluctant partner while using treatments that take time to kick in.

"I've lost track of the number of times I've popped a little blue pill only to find her fast asleep."

Here are the stories from the coalface as men - with many of their partners - reveal all about negotiating this difficult life passage. Their revealing stories will be an inspiration to others sharing the same journey.
Bettina was on an ABC Radio program talking to one of Australia's leading urologists, one of the few offering comprehensive penile rehabilitation, and a couple, Pam and David Sandoe who've navigated this difficult territory and now help others through one of Australia's biggest prostate cancer support groups.

What Men Want provides a vital update on all the sexual issues faced by couples in these circumstances. Bettina Arndt draws on her thirty years as a sex therapist and respected social commentator to reveal all the latest research and advice to help couples maintain physical intimacy - teaching men and women walk in each other's shoes and better understand each other's fears and frustrations. Publication date: September 1, 2010: Recommended Retail Selling Price $34.99. Available at FishPond on the Internet and retail shops.
Bettina also has a Forum where sexual issues are openly discussed.